AND THIS LADIES AND GENTS...IS WHY I LOVE STEPHANIE!!!!!!!!!!!!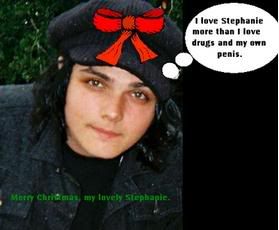 1. What did you do in 2004 that you'd never done before? stalked as many people as i could

2. Did you keep your new years' resolutions, and will you make more for next year? nope and prolly

3. Did anyone close to you give birth? uhhhm no

4. Did anyone close to you die? my dog kody and my kittie jonnie

5. What countries did you visit? arizona...wait..thats a state..so then i guess none

6. What would you like to have in 2005 that you lacked in 2004? drivers license

7. What date from 2004 will remain etched upon your memory? uhm i dunno but i bet its something good!

8. What was your biggest achievement of the year? dropping a shitty friend

9. What was your biggest failure? to many to pick one..

10. Did you suffer illness or injury? not that i can remember..but i do have a cold right now..so i suppose that..

11. What was the best thing you bought? like i can remember everything i bought all year..come on people!

12. Whose behavior merited celebration? everyone?

13. Whose behavior made you appalled and depressed? mine

14. Where did most of your money go? shows...fucking bands i swear to god i could have bought a mansion with the money i spent on all those fuckers!

15. What did you get really, really, really excited about? making plans for next spring break and my birthday on the 28!!!

16. What song will always remind you of 2004? Ocean Ave.-Yellowcard

17. Compared to this time last year, are you:
i. happier or sadder? happier
ii. thinner or fatter? fatter.
iii. richer or poorer? im sure its the same..lol

19. What do you wish you'd done less of? crying

20. How will you be spending Christmas? at home wishing i were elsewhere

21. Any big New Years plans? partay! everyone is welcome..

22. Did you fall in love in 2004? i might have...

23. How many one-night stands? zero.

24. What was your favorite TV program? Laguna Beach..i kno..im a loser..whatever!

25. Do you hate anyone now that you didn't hate this time last year? yelp

26. What was the best book you read? catcher in the rye

27. What was your greatest musical discovery? my chemical romance...aahhh ♥

28. What did you want and get? happiness..but it was shortlived

29. What did you want and not get? love...i suppose...

30. What was your favorite film of this year? Napoleon Dynamite!

31. What did you do on your birthday, and how old were you? birthday is in 4 days...i will be going to santa monica pier and playing down there and ish...YAY

32. What one thing would have made your year immeasurably more satisfying? oh so many things...

33. How would you describe your personal fashion concept in 2004? ...jeans and tshirts?

34. What kept you sane? nothing...kinda sad...lol

35. Which celebrity/public figure did you fancy the most? gerard way

36. What political issue stirred you the most? opposition to gay marriages

37. Who did you miss? the better question is who dont i miss..easier to answer..lol

38. Who was the best new person you met? omg...im naming them all...i dont care what it says..MALLORY, CARLY, PEATREE, CAM, CORI, STEPHANIE, CHANI, NICOLE i dont know who else i met this year..if i 4got u..i still love you!!!

39. Tell us a valuable life lesson you learned in 2004? keep heart in a corner on a shelf and do not take it down for anyone!

40. Quote a song lyric that sums up your year. "i want something else to get me through this semi charmed kidna life.."